Here are my favourite tracks from February's blog pillage:
Sebastien Tellier
's new album,
Sexuality
,
is a splendid collection of breathy French housey pop, with production by
Guy-Manuel de Homem-Christo
of Daft Punk. It's not as full on as you would expect from that association, referencing more Daft Punk's love of 70's AM rock, as previously heard on
Digital Love
. It sounds like the kind of music that fellow Frenches Air and Phoenix attempted (and failed, in my humble opinion) to capture. Here's my favourite track,
Divine
, which reminds of a The The hit from the eighties which I can't remember the name of.
Sebastien Tellier - Divine
Amazingly, I have just read that this song will be representing France in the Eurovision song contest! Who's representing Britain, Four Tet?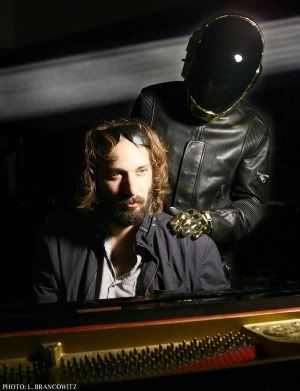 I kept reading about this
White Williams
chap, and from this track, I will definitely need to know more:
White Williams - New Violence
Free Blood
features John Pugh, a former !!!-ster, and that's all I needed to know to investigate any further. They do not disappoint, as the video below shows:
Free Blood - Royal Family (ACTH Remix)
Here's a track I shuffled across. I grabbed it a few of months ago, and should have put it up here before. I don't know anything about
Findlay Brown
, but the remix is by
Beyond The Wizards Sleeve
, who are Erol Alkan and Richard Norris, formerly of the Grid. This is the remix for people who don't like remixes, as BTWS gives the two DJ's the opportunity to showcase their love of psychedelia, Nuggets style garage rock, soundtracks and other oddities. It's one of the best remixes of the last year, and unlike anything else around. It also really reminds of something, but I can't figure out what. Any suggestions would be welcome.
Findlay Brown - Losing The Will To Survive (Beyond The Wizards Sleeve Remix)
Finally, a real classic:
Gloria Jones - Tainted Love
And in other news, DFA records is the best. But they also don't like mp3 blogs very much, so you can go elsewhere to acquire the ace new LCD Soundsystem
track
, the tremendous new Juan Maclean single
Happy House
, and the fine new
Hercules and Love Affair album
.
These mp3's were (probably) snaffled from these fine blogs -
Redthreat
/
Bibabidi
/
I Predict A Riot
/
Pinglewood
For those of you who are Facebook inclined, I have set up a
group
for you to join if you wish. I'm not exactly sure why, possibly it's just to mention the group
sleeveface
, which is genius and provided me with astonishing image above.
March 7th is the day of the Marines, and of global prayer.